Man City vs Chelsea: Teams enter another edition of the new-money derby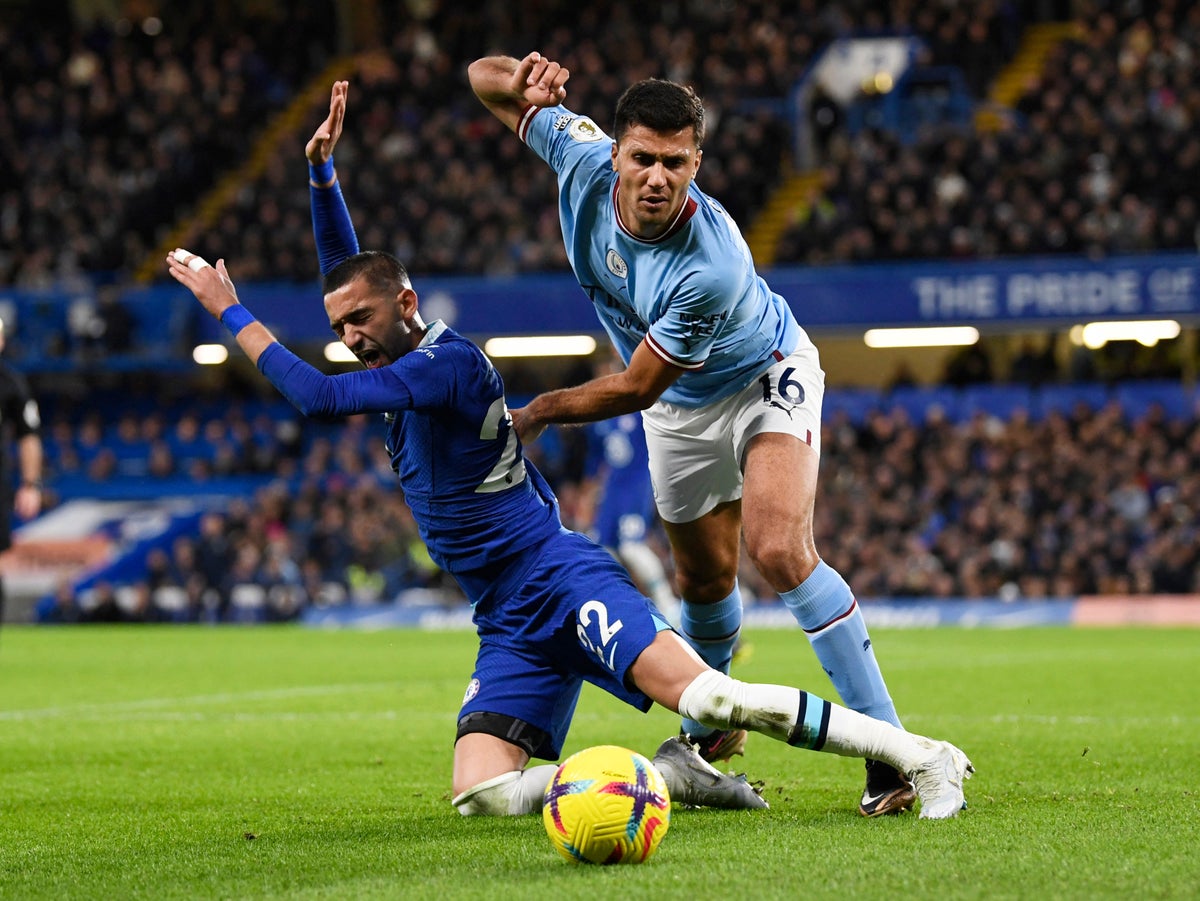 Among other things, it is a tale of two World Cup winners. Julian Alvarez's first start since the World Cup final could come for Manchester City against Chelsea on Sunday. Indeed his last club goal, separated by strikes against Poland and Australia plus a World Cup semi-final brace against Croatia, was for Manchester City against Chelsea: in the Carabao Cup in November.
Enzo Fernandez was an Argentina teammate of Alvarez's in Qatar; when the midfielder won the award as the World Cup's best young player, perhaps it was at the striker's expense. Each has had a swift rise and they lined up together in May, too, when Alvarez scored six goals in River Plate's 8-1 thrashing of Alianza Lima in the Copa Libertadores. They left their homeland for Europe soon after; if Chelsea had their way, they might be on the pitch again at the Etihad Stadium on Sunday, albeit on different sides.
Chelsea's attempts to buy Fernandez have riled Benfica; if they end up triggering his release clause, it will cost £105m, though the Portuguese club bought him for just £8.8m. Meanwhile, City can congratulate themselves on the fact they paid a mere £14m for Alvarez. And if Clearlake Capital are entitled to argue they were not Chelsea's owners when City tied up the deal for Alvarez, the huge sums they may pay for Fernandez – which would strip Jack Grealish of his title as the biggest buy in English football history – help illustrate how their paths have diverged. And, as is perhaps inevitable in the case of these clubs, it involves finances.
Before Newcastle's change of ownership, Chelsea against City was the new-money derby. If the provenance of some of Chelsea's funds in the Roman Abramovich era was dubious, they now have a different sort of backing in Clearlake, an American investment fund. Get Fernandez and Mykhailo Mudryk, and their buying of players in six months would amount to around half a billion pounds. It is some investment, especially as the returns on the pitch have been minimal.
Meanwhile City, whose ownership by Sheikh Mansour has brought huge expenditure, some of it in ways that has attracted the attention of those scrutinising Financial Fair Play (FFP) rules, can at least argue their lesser spending in the summer has been better directed. Kalvin Phillips is yet to start a game and has been accused of being overweight by Pep Guardiola but they have three definite successes in the potent Erling Haaland, Alvarez and Manuel Akanji, a £15m bargain. They have been the savvier buyers.
Arguably, Chelsea have a 0 per cent strike rate under their new regime: no recruit is yet a success. That is not to say each has failed or all will but, along with a crippling injury list, it does help account for their current plight. Raheem Sterling seemed both a coup and statement of intent, briefly flourished under Thomas Tuchel and has floundered under Graham Potter, sometimes at wing-back, and now a hamstring problem may deprive him of a return to the Etihad Stadium. His 22 Chelsea games have produced just six goals. Perhaps City, who signed him for an initial £44m and sold him for £47.5m after 131 goals and 10 major trophies, got the best of him and still made a slight profit.
Maybe it is unsurprising that these clubs often end up fishing in the same pool for players. Chelsea have already signed a left-footed centre-back this month, in Monaco's Benoit Badiashile. They targeted one in the summer, but City were reluctant to sell Nathan Ake. "He is the best defender we have in the 18-yard box," Guardiola said this week, and the Dutchman has been excellent this season. City eyed Marc Cucurella a few months ago and decided not to pay over £40m for the Brighton defender. Having failed to get Ake, Chelsea duly committed £62m and it seems they overpaid by at least £20m, as Cucurella has been lamentable; he was culpable for Riyad Mahrez's winner against them on Thursday. The man of the match that night was John Stones, who Jose Mourinho wanted to sign for Chelsea in 2015; City long had an interest in Kalidou Koulibaly and, whether or not they concluded he was now too old, did not compete with Chelsea for his signature last year. The Senegalese has had a mixed time at Stamford Bridge.
Neither Potter nor Clearlake can be blamed for the costliest blunder that benefited City in their private duel: Mourinho granted Kevin De Bruyne just two league starts and allowed him to leave without scoring for Chelsea. He has struck five times against them for City. Meanwhile, Guardiola suffered a setback in his planning when Maurizio Sarri's prior relationship with Jorginho enabled him to take a City target to Stamford Bridge in 2018. Go back 19 months and City had reasons to regret that: Jorginho anchored the Chelsea midfield to a Champions League final win over City that propelled him to the podium in the Ballon d'Or. Rodri, the holding midfielder Guardiola had eventually signed, was only a substitute that day.
Their careers have gone in different directions since and if Rodri had an odd hybrid job-share on Thursday – part midfielder, part centre-back – Jorginho's role was as an unused replacement. Chelsea may see Fernandez as his long-term successor. He would be an expensive one.
Yet if the balance of power between these clubs has swung City's way since Antonio Conte rather the Italian ruined Guardiola's first season in England by making off with the title, Chelsea nevertheless took the trophy the Spaniard prizes most in that Champions League final.
Since then, however, Chelsea have not even scored against City, losing four consecutive games against their rivals. Make that five and they will exit the FA Cup. As they are 10th in the league, it assumes more importance as a route back into continental competition, and their vast spending is surely predicated on the attendant revenues.
Even before bidding for Fernandez and Mudryk, Chelsea – along with City – were placed on an FFP watchlist of clubs in danger of breaching regulations. While they can try and amortise fees on the books by offering long deals, and Badiashile's contract runs until 2030, adding another £200m of outlay would surely see their new regime drive a bulldozer through the rules. But failing FFP could be less of an issue for Uefa if Chelsea fail to qualify for Europe.