Chelsea vs Manchester City LIVE: Premier League result and final score as Jack Grealish sets up Riyad Mahrez for winner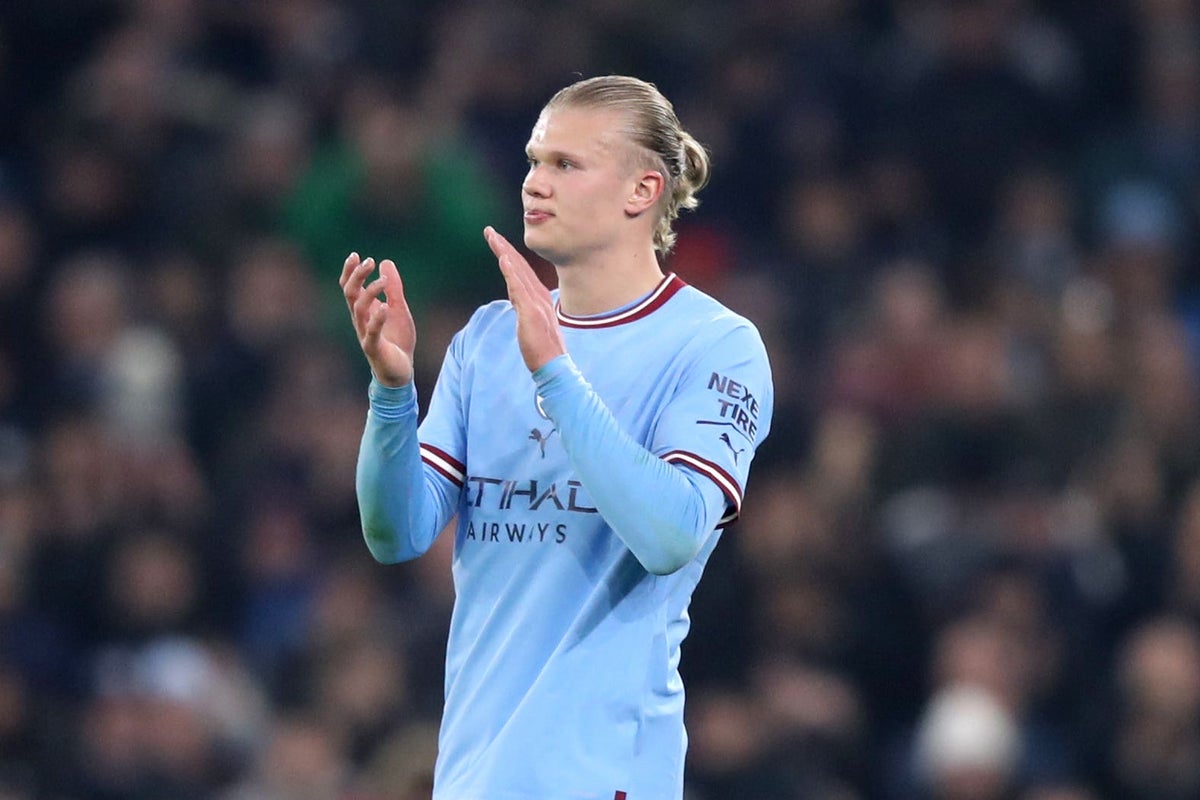 Pep Guardiola says Erling Haaland 'plays with passion'
Manchester City cut the gap to Premier League leaders Arsenal to five points as substitutes Riyad Mahrez and Jack Grealish combined to sink Chelsea.
City were struggling to break though Chelsea in the first half at Stamford Bridge and Pep Guardiola had to make a slew of changes to add spark to his team.
That included Grealish and Mahrez, with the England international producing a perfect cross to the back post for the winner on 63 minutes.
Chelsea lost Raheem Sterling and Christian Pulisic to injury in the first half, adding to a mounting list of absentees, to leave the Blues with just four points from their last five Premier League matches under Graham Potter.
Follow all the reaction below
1672957114
Riyad Mahrez and Jack Grealish combine as Man City break through depleted Chelsea
Pep Guardiola admits he made an error, and may well have corrected Manchester City's course towards a third consecutive title. If that seems premature, or overstated, this is when the champions' runs have generally started. These are also the sort of hard-fought and hard-thought wins that change mentalities and change the moods of title races.
An injury-ravaged Chelsea had actually been the better team and looking on the brink of a badly needed victory, until Guardiola realised something different was required. Kyle Walker and Joao Cancelo – of all players – were first hauled off. That first changed the game, before the next step won it. A quarter of an hour later, Jack Grealish and Riyad Mahrez were brought on, and the two combined to make it 1-0 and cut the gap to Arsenal back to just five points.
An argument can be made here how it's inevitable that this grand Abu Dhabi project will start to overtake everyone when you can bring on £160m worth of talent in two subs – especially against an Arsenal who already look like they will have to push themselves to the limit. It shouldn't be overlooked, however, that the goal also came thanks to laxness by the most expensive goalkeeper in the world and the most expensive full-back in the world.
Michael Jones5 January 2023 22:18
1672956934
Reaction from John Stones
"It's a big three points for us after the other day. The overriding feeling then was that we had dropped two points and we wanted to put it right today. How we especially played in the second half was brilliant.
"I think we rushed a lot of our play in the first half and didn't retain the ball as well as usual. Credit to Chelsea, they played really compact and we couldn't get many balls through the lines. It all came together in the second half. A few big moments with blocks and things we've done in defending in training and it came off today.
"I've tried to work on my game to make myself a better player and person.
"We don't focus on the table so early. There are 53 points to play for. We have to take it a game at a time and in previous years we have gone on big winning runs. If we perform like we did today I am sure we will have a fighting chance come the end of the season."
Michael Jones5 January 2023 22:15
1672956754
FT Chelsea 0-1 Man City
Manchester City are only the second side ever to win four consecutive meetings with Chelsea in all competitions while also keeping a clean sheet each time, after Bolton Wanderers from 1958 to 1960.
Michael Jones5 January 2023 22:12
1672956574
FT Chelsea 0-1 Man City
Chelsea have won just one of their last eight Premier League matches (D3 L4) – since the first game in this run on October 19th, no side has won fewer games in the competition.
Michael Jones5 January 2023 22:09
1672956394
FT Chelsea 0-1 Man City
Manchester City have scored in 16 of their 17 games, no team has done so more often in the English Premier League this season.
Michael Jones5 January 2023 22:06
1672956214
FT Chelsea 0-1 Man City
Michael Jones5 January 2023 22:03
1672956034
Michael Jones5 January 2023 22:00
1672955854
FT Chelsea 0-1 Man City
Since he joined Man City in 2018, Riyad Mahrez has scored more Premier League goals as a substitute than any other player (9). He scored his goal, assisted by Jack Grealish, just 3 minutes and 43 seconds after both players had been subbed on.
Michael Jones5 January 2023 21:57
1672955657
Full-time: Chelsea 0-1 Man City
90+4 mins: There goes the full-time whistle and Manchester City take the points away from Stamford Bridge. The reigning champions cut the gap on league leaders Arsenal to five points after Riyad Mahrez tapped home Jack Grealish's cross.
Chelsea have now lost as many Premier League game as they did in the whole of last season (six). They've also added to their injury woes with Raheem Sterling and Christian Pulisic getting subbed off injured.
Michael Jones5 January 2023 21:54
1672955396
Chelsea 0-1 Man City
90 mins: Four minutes of added time to play at Stamford Bridge. Chelsea are still searching for that one clear cut moment to strike back at Manchester City.
Chukwuemeka carries the ball up through the middle of the pitch on the counterattack. He slips the ball over to Hall who touches the ball into the box then smokes his effort wide!
Michael Jones5 January 2023 21:49