Cristiano Ronaldo LIVE: Al-Nassr set to announce signing of 37-year-old striker, who has Newcastle United transfer clause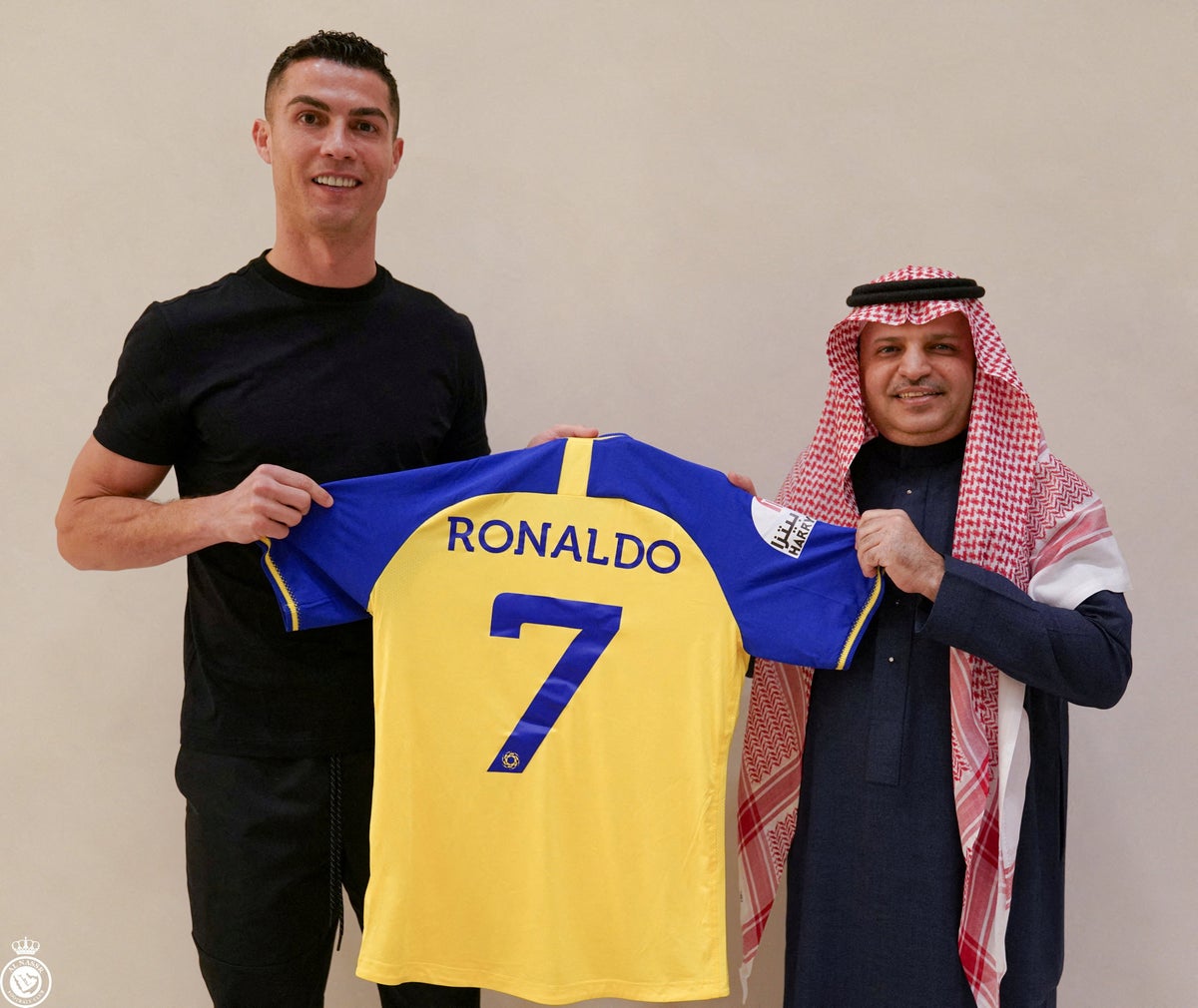 Cristiano Ronaldo completes shock move to Saudi side Al Nassr
Cristiano Ronaldo will be unveiled as an Al-Nassr player this afternoon following his free transfer to the Saudi Arabian club. Ronaldo's two-year deal makes him the highest paid footballer in the world with Al-Nassr set to fork out around $200m in a mix of salary and commercial deals for the 37-year-old.
The former Manchester United, Juventus, and Real Madrid striker arrived in Saudi Arabia on Monday evening and completed a medical earlier this morning ahead of the presentation which is due to take place at 4pm GMT.
The presentation is expected to be full of theatrics and fanfare for Ronaldo who made the move after a revelatory interview with Piers Morgan closed the book on his time at Old Trafford. In it, he slated the facilities and regime at Manchester United and said that he had no respect for new manager Erik ten Hag who repeatedly started Ronaldo on the bench.
Depending on his fitness, Ronaldo could make his debut on Thursday against Saudi Pro-League side Al-Ta'ee or face Al-Shabab on Saturday.
Follow all the updates as Cristiano Ronaldo completes his move to Saudi Arabia:
1672758683
Al-Nassr welcome 'the world's greatest athlete'
Cristiano Ronaldo's new club first announced his arrival on social media saying: "The world's greatest athlete — officially signed for Al-Nassr.
"History in the making. This is a signing that will not only inspire our club to achieve even greater success but inspire our league, our nation and future generations, boys and girls to be the best version of themselves.
"Welcome Cristiano to your new home."
Today the Saudi Arabian club will make the signing official after Ronaldo completed his medical and all the paperwork has been signed.
Michael Jones3 January 2023 15:11
1672758479
Cristiano Ronaldo completes shock move to Saudi side Al Nassr
Ronaldo's second spell at Manchester United ended in November with his departure by mutual consent, shortly after he criticised the club in an explosive interview with Piers Morgan on TalkTV.
The World Cup in Qatar saw him score in Portugal's opening group game against Ghana, his 118th goal for his country, before being dropped from the starting XI for the knockout rounds, in which the team made a quarter-final exit with a 1-0 loss to Morocco.
Cristiano Ronaldo completes shock move to Saudi side Al Nassr
Michael Jones3 January 2023 15:07
1672758126
Inside Ronaldo's new deal
After signing for Al-Nassr Cristiano Ronaldo will reportedly earn a massive £173m a year.
Close to £62m of this will be his salary as a playing forward for the club with the remaining £111m set aside for commercial deals and image rights.
Breaking that down means Ronaldo will earn £6 per second, £357 per minute, £21,400 per hour, £514,000 a day, £3.6m a week and £14.4m a month.
Michael Jones3 January 2023 15:02
1672757939
Cristiano Ronaldo joins Saudi Arabian club Al-Nassr on two-year deal
The 37-year-old was a free agent after he was released from his Old Trafford contract in November and has signed a two-and-a-half year deal reportedly worth $75m per season. Ronaldo left Manchester United after giving a series of interviews criticising the club, where he had lost his place in the team under Erik ten Hag.
Al Nassr, who are nine-time winners of the Saudi Pro League, announced the deal as "history in the making". Ronaldo said: "I'm thrilled for a new experience in a different league and a different country, the vision that Al Nassr has is very inspiring."
Michael Jones3 January 2023 14:58
1672757703
Cristiano Ronaldo joins Al-Nassr
Cristiano Ronaldo will be announced as a new Al-Nassr player this afternoon after travelling to Saudi Arabia and completing a medical assessment this morning.
The former Manchester United striker signed a deal worth a reported $200m to make him the highest paid footballer in the world.
His transfer comes after the Premier League side cancelled his contract following an interview with Piers Morgan in which the Portuguese forward trashed the hierachy at Old Trafford as well as manager Erik ten Hag.
The presentation of Ronaldo is set for 4pm GMT.
Michael Jones3 January 2023 14:55